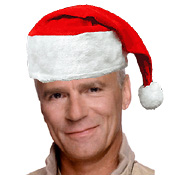 The holiday season doesn't usually drive me to swear this much. But I guess somewhere between the third breathless press release for the cheesy department store baby clothes, a Disney Princess catalog that's so nauseatingly pink it makes Pottery Barn's kitchen look like the set of Jarhead--and those Little Piggies In Prada, I had recommendation fatigue. I realized that the last thing I wanted to do right now was to cull through a bajillion toys and clothes and pieces of gear and create an arbitrary must-have holiday shopping list. And without a sense of conviction, my list would be just a self-serving combination of posing and commission-grubbing.
The cold hard fact is, I don't think there's much that I --or the kid--"must have" at the moment. We've got a lot, and we keep getting more all the time without factoring in Christmas. So I've been thinking about the kid's Christmas--she knows what it is and has already been to see Nieman Marcus Santa; she up and told him she wanted a bunny--and I realized that I'm actually making several things for her already.
And then I realized that some of the coolest things I've seen lately have been things people made on their own. And the more time I burn on these little projects, the more I realize that making a gift means giving time. And thought, but mostly time.
The kid's sweet, Mini-boo toy stroller will roll right over all the money- and status-based calculus and the nonsense about sparing no expense for your child; she'll get a great design, sure, but she'll also get hours of effort and attention from me.
Anyway, if you're serious about a unique gift for your kid this year--and you're not satisfied with buying something awesome from an independent hipster artisan like the ones Dutch has listed up, go ahead and make something yourself. You've got just under two weeks. If you're not going to get finished in time for Christmas, consider celebrating Channukah; it'll buy you a few more days. If that doesn't work, go for Kwanzaa, and so on, until you get to Russian Orthodox Christmas on Jan. 7.
Here's what I'm doing, plus a couple of other very cool, very doable suggestions. If you're making something for the holidays, I'd love to hear what it is:

The Mini-boo toy stroller you already know about. I admit, I'm looking forward to flaunting that ostentatious time sink on the playground; I'm shallow that way.

The Crib-to-Bed wasn't going to be for Christmas, but we just routed all the wood for it last night, so it makes the list. I've had an idea for a sweet, sweet modernist crib for longer than I've had a kid; now that she's ready for a toddler bed, I've been working with various folks to produce it. Mornings around 5 o'clock, when I'm building my empire half-asleep, I watch as this crib/bed design brings down the Baby Industrial Complex. Then I wake up in a cold sweat dreaming of liability insurance premiums. In any case, it won't be ready in time to help you, I'm afraid.

Bootleg Star Wars Clothing Unless you're a snowboarder who's been doing it for years, it's probably too late for you to both learn how to crochet and to make a yoda hat before Christmas. But you can still hotglue an Imperial insignia fleece blanket. Or download an iron-on R2D2 bodysuit design. Or cut a hole in a burlap sack and call it a Jawa bunting, but honestly, that one sounds pretty ghetto.

Any other clothing Dutch made all his kid's hipster onesies with a scanner, a bit of photoshop, and some iron transfer printer paper. If you've got 80's CD's or Greek Week T's or a screenshot of a meaningful Excel spreadsheet, even, you're 3/4 the way there. Even easier: Google Images.

Unless you're going to clear the calendar, it's probably too late to make a rocking chair.

Chattablog Bob made a wagon so the dogs could pull the kid around.

What am I missing? [image: rdanderson.com]