OK, this was going to be a surprise, and then I thought, what the hell? If it's a surprise for the kid, fine, but why am I keeping it a secret from you?
Because she's still obsessed with them, I'm making the kid a toy stroller for Christmas. Why make, not buy, you ask? Simple. Because they're all umbrella strollers. I want to make a toy stroller that looks like her stroller: a Bugaboo.
[Note: While I'm stoked to discuss the case for making a Bug-lookin' toy stroller all day and night--it seems bitchin', obvious, good, and right for a whole host of reasons--what I'd really like at the moment is actual advice/help on execution, not justification. So if you've got some good suggestions, bring it on. If, after that, you want to tell me what you think about the idea, by all means, let'er rip.]
Here's what I've got so far:
Start with one of those Reisenthel baskets [$30 at The Container Store].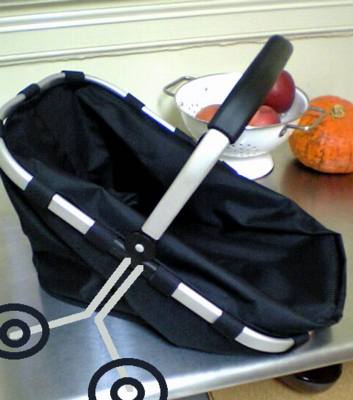 Take out the four plastic ribs that support the basket, and reverse one end of the basket. With the handle up, the basket already looks remarkably like a Frog with the seat facing the driver.
Mark the creases where you'll need to sew or hot glue the extra fabric to itself to fix the basket into a permanent seat shape. [I haven't done this yet myself, but I can see how it'd work. The hard basket bottom can be broken to make a bend if necessary, but I don't think it is.]
"All" that's left is the undercarriage and wheels. I think the base needs to be an aluminum finish, inverted right-angled "V" or "Y" that attaches to/over/under the black plastic basket hinge. If the 4 wheels are the same size or not doesn't matter so much. But the large(r) tires would probably be 5-6" in diameter.
I've been thinking of training wheels, but they might bend outward too much. Maybe they're from from an old-lady laundry/shopping cart? tricycle wheels are probably too heavy, [or not?]
If the wheels aren't attached by directly--or directly via brackets--to the frame, I'm thinking of laying/fixing two steel/aluminum 1/2" tubes side-by-side, so that they approximate the 1" width of the handle, but then branch off at 45-degrees out about 6" below the seat.
How do you suggest I do the wheels? What wheels should I use, Scavenged/repurposed/ new/whatever? [I've wandered around both Ikea and Home Depot and saw absolutely nothing I could use, btw.]
Should there be an axle [I think there should be, if only for structural strength, but I'm open]?
Should/could it fold somehow? [the handle folds flat against the frame. If the wheels did likewise, it'd sure be convenient.]
I'd love to figure this out soon-ish, if only so I can post the results in time for other MacGyver-y dads out there to make one, too. [If I don't get it done in time, it'll end up as a Channukah present, although that would also require explaining why we've been calling our 7' tall Channukah Bush a Christmas Tree all this time.]
[update: Other Greg gets credit for the name: I shall call it "Mini-boo."]