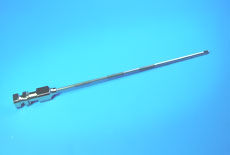 Danny Gregory got the automatic boot from the delivery room when his wife Patti was having her epidural. In our case, the topic never came up; I stayed through the whole thing, including the part where the hippie anesthesiologist stuck a Pulp Fiction-sized needle into the middle of my wife's spine. Other times, delivery room staff will ask a dad if he wants to stay or if he'd be better off waiting outside. Terrible story: one dad in California fainted while helping hold his wife for her epidural; he fell, hit his head, and died two days after the baby was born. [yes, there's a lawsuit.]
The result: there's no one way to approach the issue of spectators at an epidural. Policies are set by each hospital/birth center, so ask beforehand, and find out. Guys who get queasy around needles--especially large, curved needles, called Tuohy needles, for those playing at home--should pipe up about it in advance. And folks who want to stick together [no pun intended] through the whole thing should ask about it, too. There are surprises enough in the delivery room as it is.
Any insights on how or why these policies vary, or how to deal with it?