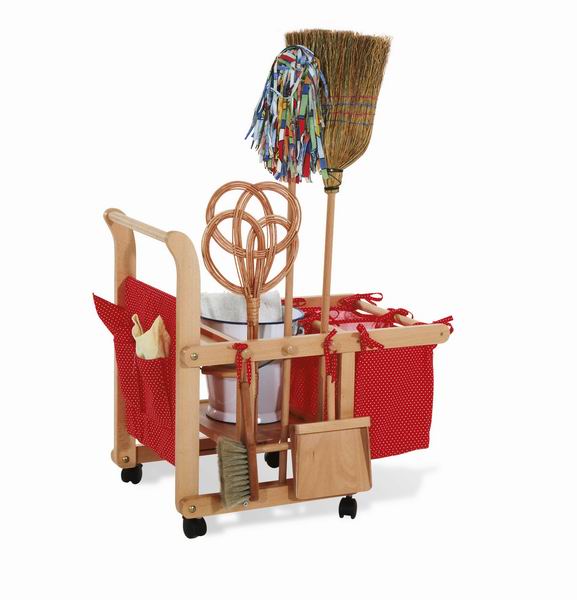 Do you think letting your kid playing with a toy replica of a needlessly expensive, high-tech vacuum cleaner teaches the wrong, elitist/consumerist lessons?
Well, what about this toy housekeeper's set, a wooden pushcart that comes complete with a broom & dustpan, two garbage/linens bins, a bucket & mop, and one of those mattress/blanket beater things that you haven't seen since catching an early post-war Roberto Rossellini film on IFC? It even has some toy rags.
Not only would this familiarize the kid with the promising career options available to him in the hospitality services industry, it'd also help him develop empathy with and healthy respect for your own domestic staff members. And it'd give him a taste of the menial jobs his immigrant great-grandparents had to put up with so that his diapered little butt could be born into the middle class, thank you very much.
Unsurprisingly, this is not available in the US. [If it were, I hope they'd bundle it with a Living Wage Activist playset.] But it IS for sale in Holland, where it's Ä99.00, with instructions in both Turkish and Indonesian.

Schoonmaakwagen Else/Toy Housekeeper Cart [sweetbabyfeet.nl via dt reader mark]