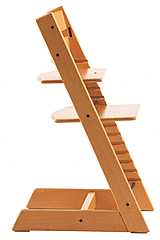 Regular readers of this weblog will know of my love for the Stokke Kinderzeat. And if you're new here, I'll tell you now: we have it, and we love it.
Except that we've never been able to figure out how to adjust the length of the safety strap. For the first year, it was amusingly snug. Now it's becoming oppressively tight. We talked it over and decided that we'd rather let our kid keep eating and growing, even if it means she'll never be on the cover of Cookie Magazine, and so we'd like to loosen the buckles and lengthen the straps from their original setting.
Does anyone know how to loosen the buckles on a US-spec Kinderzeat? On the off chance that your staring at them for a few minutes will be more productive than our staring at them for two years, here's what they look like.
[And before you ask, yes, I contacted Stokke, but I haven't heard from them yet... Maybe I should've told them my backup plan: to post my complaint on a prominent parenting website.
Buy your own Stokke Kinderzeat from babystyle or amazon, $199