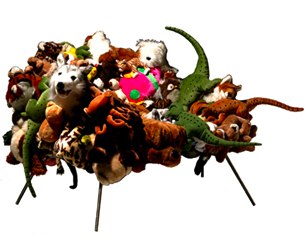 Unlike some blogs who type on and on and on about some cool design or other [umm...], CribCandy knows when a picture is enough. Or when a picture and a link are enough. There's a continuous stream of sweet contemporary design, furniture, and other stuff for your crib.
Granted, most of them are for cribs without cribs, but there are a few that might go well with kids:

Creepy-cool glowing doll lamps (from Petitcollin, the French company who also offers a set of "melting pot" dolls with a range of skin tones from across the former colonies.)

Chair made out of stuffed animals (it's unique and expensive--$11k-- made by the Campana brothers who I like, but available only from Moss, who I don't.) Also available in alligators, sharks & dolphins, and teddy bears. [oops, the bears are sold.]

Balloon lights are by Toby Sanders, but I don't know where to get them.