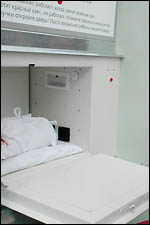 Hey, I can admit when I'm wrong. The Infant Dumpster was a bad idea, and I shouldn't have called for its return. Did I say bad? How about suboptimal. Optimal would be a clean room, with a hotline for the anonymous mother to alert nurses immediately when she abandons her baby. It'd be something like The Baby Box. Now that'd be something I can get behind.
In yet another case of life imitating The Onion, the newest Baby Box was recently installed in a Prague charity clinic after a two-year fight with the government. And it's patterned after the 'baby hatches' that have appeared in countries all over Europe:
In April 2000, a similar "baby hatch" was installed in a Hamburg, Germany, hospital after five babies were found in recycling bins in 1999. Two of the infants died, according to Heidi Rosenfeld, a social worker for SterniPark, the Hamburg charity responsible for installing that first baby hatch.

So far, 21 babies have been "deposited" in Hamburg and 70 more boxes have been installed throughout Germany. Now Belgium, Austria, Slovakia, Switzerland, and Hungary have also installed the boxes.
Of course, it's taken ten years to get public toilets in the city, so I imagine would-be baby abandoners'll just have to keep improvising for a while.
'Baby boxes' help abandoned infants [csmonitor, via dt reader brian]