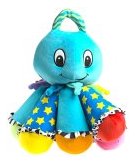 I'd forgotten that the kid's Lamaze Multi-sensory Clutch Cube--a favorite toy--smelled like green apples. Maybe it doesn't matter; the kid loved it, and so did we. But what'd we know? We loved it because the kid loved it, and it kept her enthralled and happy when she was 3 months old.
This weekend, we found out another Lamaze toy--a gigantic octopus with heavy, flailing legs--which some friends have, smelled like vanille. Actually, it smelled like having a hundred vanilla car fresheners duct-taped to your face.
My wife reminded me that the kid's favorite plastic-headed doll smells like vanilla, too. [I checked; it does, but it's not nearly as bad.]
I'm sure this isn't an accident, but a well-meaning-yet-disgusting pedagogical blunder. Now I have to watch out for toys that smell, too?
And as for teaching my kid about smells, Thanks. between the homemade pesto and the farting, I'm sure she's getting a very broad education without sniffing up some chemical-laden toys.
OR you may love that kind of thing. Suit yourself:
The Lamaze Octotunes ("great vanilla scent"!) is $24.99 at Imaginarium/Amazon
Oh, and Pat The Bunny says it smells like flowers, but it's more like floral bathroom deodorizer.