I was a too young 17, and trying hard to prove my post-punk North Carolina bona fides to all the so-cool Southern Californians at Brigham Young University. It was long after the Rat Pack, but long before Swingers when, on a whim, some dormies and I set off from Provo one Friday night for a swingin' weekend in Las Vegas. We arrived by about 1:00 and changed into our thrift shop tuxedos in the parking lot of the Dunes and swaggered into the casino, more The Four Freshman than Frank & the boys, but still.
Highrollers all, we thumbed our noses at the $2 blackjack tables and headed straight for the $5 tables. The rebellious and/or non-Mormon among us ordered watered down drinks [FREE!?] and the waitress wearily obliged. After a couple of hours, the drinkers peeled off, and I, not wishing to reveal my Southern ignorance of craps, stayed behind, nursing a Perrier.
After a few minutes, my tablemate, a woman I remember as a Plenty O'Toole-type and I were joined an extremely fat man (Minnesota Very Fats?) in a cowboy outfit. He got our attention immediately by getting $100 worth of chips. At once. With a $100 bill.
We played a few hands in silence, when the fat cowboy made it clear why he had chosen our table to play. He turned to the woman and said, "Hey baby, I got a $100,000 motor home." His voice rose on the 'thousand dollar' and coasted back down deep on the 'motah hooome,' and I was dumbstruck. Back where I was from, motor homes were like mobile homes, which were only for poor people and tornados. They NEVER cost $100K, and they were NEVER something to talk about, much less to brag about in your opening line.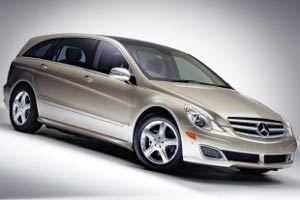 Very Fat Man's pickup line has stuck with me all these years as a valuable reminder that my circumscribed existence often leaves me utterly clueless to all the ways people perceive status, money, taste, and class. I learned this lesson again Saturday, when I took a trip to a Virginia Mercedes dealer to check out the new R-Class.
I poked around an R500 in the showroom, and the friendly dealer, sensing my skepticism, told me a reassuring story: he'd just sold one to a guy in Potomac, two kids, who took it to the tennis club and all the other dads wanted to try it out [emphasis his]. This was a dad's car, he said. I saw that the sticker price--without the second row console, which contains the all-important cupholders--was $69,890. And the title of this post flashed into my mind.