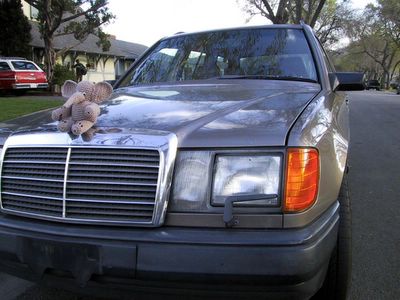 Now I'm no workshop guy, but I surprised myself by burning an hour last night, totally transfixed by Hooptyrides, the weblog full of the insanely cool, warped, and fascinating projects of one Mister Jalopy of Southern California. [Yes, the same Mister Jalopy you read about in that issue of Garage Life, the Japanese magazine. Oh, he also writes for Make.]
Anyway, here's how he begins his description of one of his cars, a 1987 Mercedes-Benz 300TD
With absolute conviction, I can say, the 1987 Mercedes 300TD is one of the very best automobiles ever made. Though I don't have 7 friends, should I acquire a few more, I will be able to bring them with me in absolute comfort. It is a 6 cylinder turbo charged diesel and it was only available in 1987. The W124 body cars (the 80s E-classes) were the last true Mercedes that felt like they were machined from a single block of steel.
He goes on to describe it's speed, reliability, convenience (1987 was the only year they had a 6-cylinder diesel engine.) But this "last true Mercedes"/"single block of steel" thing tripped me up; that was exactly why we bought our 1985 Mercedes 300 turbodiesel after a months-long, nationwide search (I can vouch for Mr. J's rule of thumb on the cost of maintaining a vintage Mercedes. Search search search.) It was the last year before they replaced the venerable round-headlight, rounded-block W123 with the wedge-y, futuristic W124. I didn't know the company kept its soul for two more years, but we still like ours better.
And speaking of souls, I'm going to try out the new R-Class this afternoon. I'll keep you posted.
1987 Mercedes 300TD [hooptyrides]