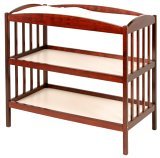 John's a dad-to-be who's right on the brink of buying a bunch of nursery furniture. His wife's been taking him to babies r us like every night, apparently, and he just wants to know, "Is Storkcraft any good?"
Storkcraft, as you may now (or not, depending) is a Canadian manufacturer of traditional nursery furniture. Not too expensive, in business forever, available at a department store near you, probably. Some of its pretty simple and clean-looking, like the Kayla II Changing Table above, which is only $99. [Too bad there's not a Kayla II crib, eh?]
Anyone out there have a Storkcraft love- or horror-story to help John with his biggish purchases?
Check out some Storkcraft cribs and other nursery furniture at amazon, or browse the whole catalogue (no retail) at Storkcraft.com