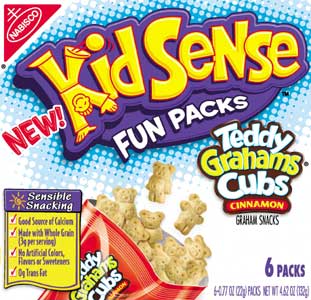 "We know it's not always easy to find great tasting snacks that you feel good about giving to your kids-[and so we figure you'll pay through the nose for this largely empty box of Teddy Grahams made without high fructose corn syrup--which, to be honest for a split second, we shouldn't even be putting in there to begin with, but hey--which is sitting right in front of you.]"
Instant soup's never been an issue, and I'm adamant about only giving the kid the crusts of my Pop Tarts. But when I see the alarming obesity that is American childhood, and when I read how much high fructose corn syrup kids ingest because a combination of Archer Daniels Midland hegemony and hyper-politicized cane sugar producer protectionism has made it the low-cost standard for the entire Food Industrial Complex, I AM almost ready to run into the welcoming embrace of Nabisco's KidSense "better-for-you versions" of their regular products, even if they cost twice as much.
But then I think, "better than what? Oh, that's right, better than the stuff you've been selling me for the last twenty years? Would it kill you to make ALL your products 'better-for-us'? Because judging by the rates of childhood diabetes and heart disease in this country, it's killing everyone else right now."
That said, the KidSense Teddy Graham Cubs ARE delicious. And so cute! [nabiscoworld.com/kidsense]