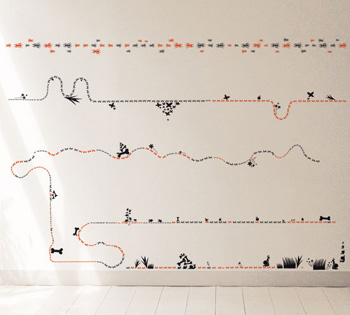 Sure, there's Blik, and Modernseed's new Freckles are cool. But if you're so hip, the mere mention of Baby Gap makes you wince, here's what you need to do: lighten up. Just roll with it once in a while. You can't change everyone, and you'll probably just end up pissing people off, so be polite about your superior sense of style.
OK, now that that's settled, what else you need is a set of wall decals from Colette. [For the rest of you, Colette is a cool-chasing fashion/music/lifestyle store in Paris which is extremely influential among editors and proud fashion/design whores, a designation which admittedly sounds better in French.]
Colette's online store features three sets of wall stickers from a new brand called Domestic: they include two scenes of store's cartoon dog mascots, Caperino & Peperone [aka Cap & Pep, but then, you already knew that], and one of ants called "we are not a colony," [amusing, considering the store's hegemonic power over its fans.] A whole, awesome host of other designers' sets are available at the store, located at [oh, you know where it is] or on Domestic's own site.
The sets are EUR36-84 each, and they will ship outside the EU, so vas y.
Domestic Stickers [colette.fr]
Related:
Caperino & Peperone Gazette [caperinopeperone.com]; Domestic Vynil [domestic.fr]