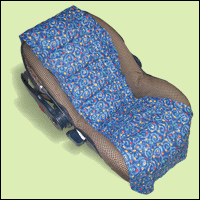 The kid has been jabbering non-stop for months, and always comes up with something to surprise us. The other day, when we loaded into the hot car, she started moaning for "air, air, air," from the back.
The black Maxi Cosi Priori car seat (the next size up from the Cabrio, ordered in a huge, expensive debacle from ebay.de, remind me to tell you about it sometime) doesn't help.
What would help, though, is a chillable car seat cooling device like the Cold Seat, which has six freezable gel packs sewn into a condensation-absorbing cover. When draped across the metal buckles, straps, and hardware of a sun-baked carseat, the Cold Seat lowers the contact temperature pretty quick.
Too bad they're only available in cheesy, riotous prints. After three months and $400 worth of "fun" getting this Euro carseat over here, I'm definitely not gonna drape a "fun" jungle print all over on it, so I'll wait until there are solid fabrics available. Meanwhile, the kid
knows how to say "air," so I'm not too worried.

The Cold Seat is around $60 [weetergroup.net, via dt reader ed]