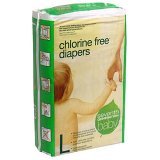 I bought a smaller pack of Size 4 Pampers for the kid to try out the other day, and so far, I'm unimpressed. They're a little big still, but for some reason I just don't like the way they feel or work. As much as I'd like to keep the kid cute and small and in Size 3 forever, she won't need another full case. And besides, I'm ready to move on, just maybe not with the same brand.
Has anyone tried Seventh Generation diapers, or is anyone a happy (or unhappy) switcher to 7th Gen from Pampers? I'd love to hear your experience/advice. I won't lie; I like them because they're plain and wouldn't give the kid VML (Visible Muppet Lines). But even I have to admit that in rare cases, looks may not be the most important thing. Thanks.
Buy your next box of Pampers, Huggies, or even Seventh Generation diapers at Amazon, and they'll be delivered right to your door.
[update: my wife reminded me of this post on Trixieupdate from a year ago, where Ben laments the lack of half-size diapers.]