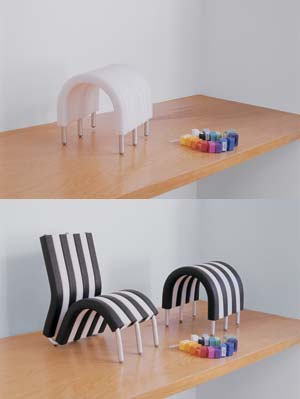 Wha' happen? Did you blow the kid's college money on that ModBox? No problem. Now you can finish the nursery for like thirty bucks, tops.
Belgian designer Robin Delaere just won the ID Annual Design Review for Furniture for his new, cheap, easy, and seemingly infinitely flexible furniture system called Foamz.
It's designed so that kids can assemble it themselves by pushing the curved tubular legs through precut, preformed polyurethane foam tubing. The stuff costs nothing ($15-25 for now), packs flat for easy shipping [the bigbox retailers love the flatpack], and can go anywhere, indoors or out. Delaere and a partner started a company to produce and distribute the freshly patented Foamz system and to continue developing the line. Up next: more tables, some custom bends, and the American market: "If Target wanted all the models in red and white, that wouldn't be a problem." Stop sucking up and just get the chairs over here, Robin.

See I.D. Magazine for a writeup and Delaere q&a [idonline.com]
Or max out on Foamz you can only buy in hypermarches at Foamz.com
Bonus I.D. factoid: Kid O-nwer/architect Lisa Mahar was a judge of the environments competition.