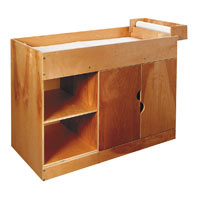 At Christie's auction house a couple of years ago, a desk designed by the late minimalist sculptor Donald Judd sold for $300,000. While he never designed a changing table (that I know of), if he did, it would've turned out much like this one, a commercial/day care center model from Sam's Club.
Of course, Judd would have made the screws flush with the surface, if not invisible. And he would've taken more consideration to matching the colors of the birch laminate more closely. And he probably wouldn't have added the paper towel rack. Other than that, though, it's pretty close.
So how much does the everyday low price at Sam's Club save you off the [admittedly hypothetical] original? Oh, about $299,525. More if you consider Christie's doesn't include shipping. I say God Bless America and it's endless appetite for a bargain.


Wooden Changing Table $475.27, shipping included, at Sam's Club [samsclub.com, thanks to dt reader andy]
[Update: a suggestion from the comments:
If you like the whole Donald Judd thing,
´Print out the picture
´Customize to fit your own nursery
´Take to your local cabinetmaker, lumberyard, or millworker
´Support a local guy who is being put out of business by the big box stores, like Home Cheapo, Lowe's, Wal-Mart.
Now THAT is the American Way.]