If you were under the impression that Danish design's best days were behind it, well, you're high. Just check out these two complementary beds for kids by Stig Leander Nielsen and his company, LEANDERFORM.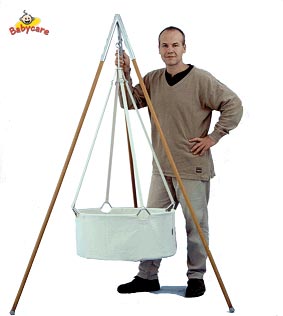 The Leander Cradle was introduced in 2003 and quickly became the best-selling cradle in Denmark. It's a cotton-covered cocoon bed which hangs suspended off the floor, either from the ceiling or from a sleek, optional tripod. The kid's movement causes it to rock gently, and there are testimonials from happy Danes of how their kid started sleeping through the night immediately after getting it. Obviously, the usable lifespan of a dangling cradle is limited (to whenever the kid can sit or pull himself up).
But that's fine, because that's when you put him in the Leander Bed--where he stays for the next 4-5 years. The sweet, sweet, curved birch laminate bed starts out as a crib. [yeah, it's low; practically all European cribs are low like that.] As the kid grows, you can remove one slatted side, then the other, then the high ends, giving you a couple of nice toddler bed options. But then swap out the side runners and throw in the mattress extension, and the whole bed extends 30cm into a full-on toddler bed.
Even the sheets are cool (although I didn't think so at first). The all-over pattern turns out to be based on a giant paper cutout made by that most famous of Danes, Hans Christian Andersen. It looks a little crafty, but that's cool these days; plus, Andersen worked some little skulls into the design--just enough creepiness to make it work.
The downsides? Those sheets may signal a non-standard mattress size that locks you in, Stokke Crib-style, to their proprietary accessory selection. The spare, elegant design is marred by the giant LEANDER plaque right in the middle, the kind egocentric car dealers slap onto the tail of your otherwise pristine Range Rover. You should be proud, Stig, don't get me wrong; but less is more. Also, it's not officially for sale in the US; at £470 or EUR700 for the bed and EUR190 for the cradle (the tripod's an additional EUR115), the 17% VAT refund probably won't cover the hefty shipping charges. You know what that means: Road Trip!
Check product and retailer info at Leanderform [leanderform.dk via dt reader jimi]
Babycare.nl sells the cradle separately or as a value meal [that's Stig posing with the cradle, btw. Why do Euros always like the mosquito netting?]
The Leander Bed is available online for the UK at Oliver's or in Denmark from BabySam , who'll entertain the idea of non-EU shipping.