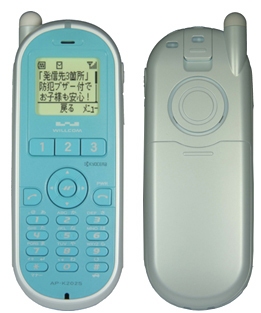 You know how there's that automatic pornstar name generator site? Somewhere out there is an automatic cellphone for kids business model generator site, too. If you know the URL, send it along. Clearly, the folks at Kyocera have it.
This new phone runs on a PHS network, which I think is the low-grade technology that got mobile phones rolling in France way back, no? [weren't they called the Boppy or something? maybe I'm thinking of something else. Bi-Bop, I was close.]
For EUR7.50/mo, your kid can make unlimited calls to any of three pre-programmed numbers. Step outside that sandbox, though, and you pay, presumably a lot. Also, Akihabara News seems to think it's the first terrorism-ready cellphone out there: you can send the phone an alarm/alert alarm "in case of an attack."
If you can't tell where I stand on the cellphones for kids issue at the moment, just try pronouncing the acronym in the headline.
Willcom / Kyocera PHS phone [akihabaranews.com, via dt reader Ed]