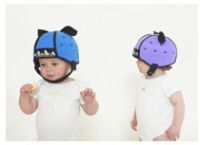 While the DOC Band of plagiocephalic fame looks awesome [AND serves a legitimate, even crucial purpose AND is decorateable] the ThudGuard helmet is none of these things, far from it.
Invented by a Scottish mom "to help absorb and reduce the impact of head injuries due to a fall or collision"--the kind of falls that, are "very common in even the safest of homes and gardens," and occur because a child is "learning to walk in a world of hard surfaces"--the Thudguard is the pathetic embodiment of a parent's sincere, but utterly misplaced, futile desire to put their kid in a bubble [the not coincidental design motif of the ThudGuard site].
There are two situations where an infant's melon--already an excellently designed, resilient protection device for protecting a kid's brain, thanks be to God and evolution, if you ask me--can benefit from a ThudGuard's extra, extra, extra protection:
1) If the kid is in an environment where oafish parents or out-of-control, older siblings throw a lot of things at his head, like, say, blocks or beer cans
In a hopeless loser environment like this, every scarce, inherited IQ point must be protected at all costs if the child is to become a minimally functional member of society someday.
2) If you leave the kid at home alone while you go out to a cafe, the pub, to run a few errands, or to have a quick cabertoss with your mates
The ThudGuard: sign of American-scale (read: near-pathological), parental over-protectiveness? Or unspoken but secrectly welcome facilitator of European parents' unacknowledged propensity for leaving their kids alone at home?
The ThudGuard is available in "Baby Blue (Boy)" or "Lovely Lilac (Girl)," and it will cost you ú29.99, plus ú2.50 Postage & Packaging, plus any credibility I would ever be inclined to give you on parenting matters, ever. [albyn, via gizmodo and Because I'm Your Father]