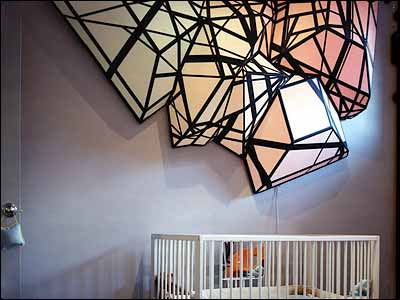 A few months back, NY Mag did a feature on the apartment of friend-of-many-friends and art world gadabout Yvonne Force, her husband Leo Villareal.
They put an awesome crystalline wall sculpture by Stephen Hendee over their kid's crib. [note to self: ask Yvonne about that crib scroll down at least half a page on articles you post about, you lazy know-it-all. It's Ikea.]
Coincidentally, we have a Hendee sculpture in the corner of our bedroom in DC, and putting the kid to bed usually starts with turning off the lights and turning on the Hendee's dim, green/yellow glow.
A Museum Of Her Own [nymag]
From the same issue: Architect builds tripped out dreamhome--then has twins