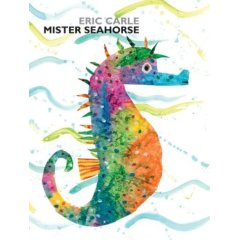 Title: Mr. Seahorse
Author/Illustrator: Eric Carle
Reviewer: Lee
Feminists and SAHDís alike will likely rejoice in this book. Join Mr. Seahorse as he cares for his eggs and wanders through the sea meeting other aquatic life for whom the daddytype in the relationship is the primary caretaker. Iíll bet you didnít know that Mr. Tilapia, Mr. Stickleback and others all care for their eggs themselves, whether it be on their heads, backs or in their mouths. Between interactions with these enlightened fish, you are also treated to creative pages with other fish who camouflage themselves behind clear plastic pages of rocks and coral.

I don't want to spoil the ending, but I love the fact that when one of the baby seahorses tries to move back home (so to speak), Mr. Seahorse says no.
Check out
Mister Seahorse
or see if you can find
any other Eric Carle books
you have memorized at Amazon.
Did you know there's an Eric Carle Museum of Picture Book Art?