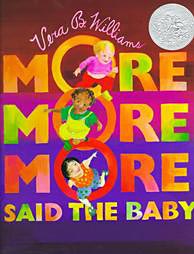 Title: "More More More," Said the Baby
Author/Illustrator: Vera Williams
Reviewer: Buck
Says Buck: "The baby books we own fall into two categories: 1) ubiquitous gifts--I think we have three editions of GM, but we might have four-- and 2) Used pop-up books from my sister's kids, which are so destroyed I don't know why I haven't thrown them out yet.
"This review has already inspired me to buy a few more, including the one I'm reviewing, so it's already had a benefit. I just hope people can stay away from recommending some amazingly illustrated children's book that is out of print and sells used for the prize of Bugaboo."
I have no idea how well-known or popular this book is, although being part of the Caldecott Collection, I assume it's not too obscure. I consider a new book to be a hit with my daughter if she pays attention to it with something other than her mouth (not that I mind some board book chewing). By that definition, this book is a winner, since I think Buckette wants to climb into the illustrations, while Goodnight Moon is a chew toy first and foremost. The actual text is more of a starting point for a parent-child game, which I quite enjoy. Rather, I enjoyed; I checked this book out of the library, and I need to buy a copy.
Check out
"More More More," Said the Baby
at Amazon, or check it out at your local library--via Amazon--using
Jon Udell's LibraryLookup bookmarklet
.
Have you written your baby book review yet? Despite what it may look like, you don't actually have to mention Bugaboos to enter.