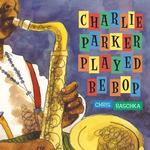 Title: Charlie Parker Played Be Bop
Author/Illustrator: Chris Raschka
Reviewer: Jason Sperber
My 9-month-old daughter loooves this book (we have it in the boardbook edition). It's a great introduction to the idea of jazz and music in book form, but more than that, it's fun to read. It's been our babygirl's last-book-before-bedtime for months, and she seems to get a kick out of the silly rhymes and repetition, the syncopation and the brightly colored illustrations. On cranky nights, she'll bat other books out of our hands and reach toward "Charlie Parker" on the bookshelf.
Check out
Charlie Parker Played Be Bop
at Amazon