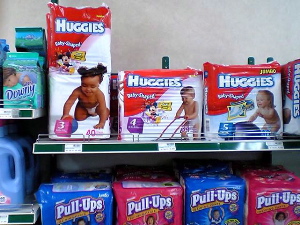 Because otherwise, I'd have been tempted to buy the imported Huggies at the landmark ex-pat grocery store, National Azabu*. They're 3,987 yen. [$37].
We actually brought a brick of US Pampers with us, about 20 days worth, and filled in with Japanese Pampers. They're extremely soft, gotta give them credit, and we haven't had the leaking problems we had with the 5-mo ones last year. [They also have pull-on pants-style diapers in size 3/M, for changing standing up. It wasn't clear from the packaging that they're for toilet training (i.e., even less absorbent), so we didn't take the chance.] But they don't seem to have the absorption or wicking capacity of the American ones; they get damp on the kid-facing surface pretty quickly.
I've been working on it, but no one seems to know why. My theories:
- Japanese burn almost all their trash (after separating it obsessively), and the gels and plastic-based liners don't burn as well, so they're out.
- Actually, that's as far as I've gotten. Anyone know what's up with Japanese diapers?
* Owned by the Tohokushinsha Film Studio? Who knew?