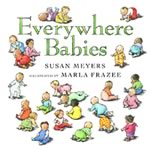 Title: Everywhere Babies
Author/Illustrator: Susan Meyers/ Marla Frazee
Reviewer: Nicole Apostola
In a not-to-cloying rhyme, this book takes the reader through the stages of baby-dom, from swaddled newborns to the transition from liquid
to solid foods to learning to walk.

My son, like most of the under-one set, enjoys seeing all the babies doing things he can do or has yet to accomplish.

There's a message in the illustrations (and, to a lesser extent, the words) that all sorts of diversity is okay. (Even better, it's not done in a preachy or condescending way.) Kids of all colors are present, as well as those with single parents, two same-sex
parents, etc. Kids are shown being both bottle-fed and breast-fed. For parents who feel that they can't find a book that adequately
expresses their family situation, chances are they will be able to point to at least one example in this book to tell their children --
"Look! That's like our family."

For parents on the conservative end of the spectrum, there
is enough activity that the kids probably wouldn't notice anything amiss unless it were specifically pointed out to them.

All of this makes this book not only a perfect book to read to a child under, say, one and a half or two, but it also makes a good gift for new parents regardless of their persuasion.
Check out
Everywhere Babies
at Amazon [amazon.com]