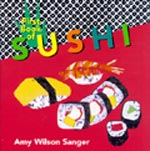 Title: First Book Of Sushi
Author/Illustrator: Amy Wilson Sanger
Reviewer: Delia [blog: eliaday]
This First Book of Sushi is perfect for any post-pregnancy moms that were dying for 9 months of so without their sushi fix. The bright
colors and sharp patterns are great for babies, as are the playful
rhymes. And, reading about all different kinds of sushi will get the
whole family in the mood for food. I've even seen my daughter trying
to pick at the grains of rice in the book. Now rice is one of her
favorite foods!! Sushi will be next I'm sure. Any fans of Urban
Babies Wear Black will be sure to enjoy this read.
There's a line that goes, "Wasabi hot hot hot," that we use all the time. Nothing is ever "hot" for the kid; it's always "hot hot hot."
Check out First Book Of Sushi and the rest of the World Snacks series at Amazon [amazon.com]
Got a review? Send it in! Don't got one? Get one, then send it in. Details here.