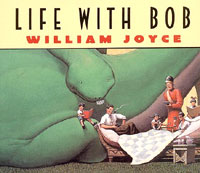 Title Dinosaur Bob
Author/Illustrator: William Joyce
Reviewer: AJ from Thingamababy
Joyce is a prolific artist and storyteller behind such shows as Disney's Rolie Polie Olie and the recent CD film, Robots. AJ's review of his Dinosaur Bob books morphs into a veritable Joycean portal of additional links and information sources. Check it out. Here's an excerpt:
Dinosaur Bob is a treasure to behold.

I fell in love with the book illustrations of William Joyce during a chance encounter with Life With Bob at a garage sale. The cover art caught my eye.

Flipping through the book I saw Joyce's drawings capturing the sense of pre-war culture and optimism of 1930s America, modeled with modern flair. The artwork is simply gorgeous. (The art and architecture of the 1930s are a special interest of mine. Fans of Bruce McCall should love Joyce's style.)
Check out
Life With Bob
and
other Joyce titles
at Amazon [amazon]
Write your own baby book review or send in your review link.
Contest background here.