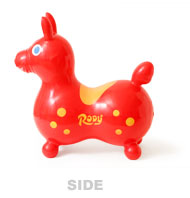 Just going by the age of most of its customers, the 6-story character goods store in Harajuku should not be called Kiddyland. Even in this country that takes its Hello Kitty very seriously, though, she only has half a floor. There's Miffy stuff, and Star Wars, and stuff from other readily recognizable characters, too, but there are also tons of characters you've never heard of, each with its own cult following.
Like Rody, the Italian rubber pony. [??] Rody's an object of freaky devotion of some kind or another in Japan and Hong Kong. The Autralian knockoff, called Bouncing Bambi, claims to be inspired by "Tokyo, Paris Hilton, Gwen Stefani and the Mad Hatter's tea party," which put only two degrees of separation between Rody and a world of skank and Hollywood-style Kaballah.
If you're thinking of getting Rody for an actual kid, there's the slightly bouncy feet version, but he also plugs into an optional rocker base. With a weight capacity of 300kg, Rody should support a Sumo wrestler with a Sumo wrestler on his lap. But we've heard of similarly indestructible yoga balls exploding on people, so watch out.
Rody's 63,000 yen, pump sold separately. If you like the concept, but don't like all the flash and dazzle--Rody has "Rody" painted all over his haunches--Sparkability has the undecorated, more Lutheran version--made in Germany, no less--for $39.
Rody and accessories are at a Japanese online store called Angers
Or at Kiddyland in Harajuku [kiddyland.co.jp]
Rody's available in the US at Children's Needs [childrensneeds.com]
German no-nonsense bouncing horse at Sparkability [sparkability.com]