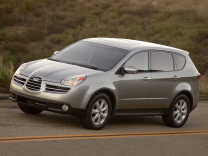 Tribeca conjures up all sorts of romantic images: young families in winter (that's when the banks hand out their bonuses) fleeing low-ceilinged oppression on the Upper East Side, with friendly, accented nannies pushing the Bugaboos over restored cobblestone streets. Or, as Subaru's ad rep puts it, "There's an urban sensibility; we are targeting the kind of peopleóyoung familiesócoming into the city for film festivals, or museum visits."
That's right, Tribeca=daytripping. We have a word for that in the city, and it ain't "urban," my friend.
And yet I'm torn, because the Tribeca is certainly a distinctive and stylish car [it must be said] for a Subaru. But I'll let my favorite auto critic, the LAT's Dan Neil say it much better: The B9 Tribeca is "a handsomely sculpted luxury crossover from a company generally known for putting the 'ugh' in ugly."
He goes on to praise its space, performance, ride, interior layout, just about everything but the optional third row of seats. His only worry is that this "cool and sexy" car, which drives "more like a sport wagon than [a] minivan," might not appeal to Subaru loyalists, who don't care about any of that stuff. Ouch.

Wow, what a trip [lat]
Tribeca - for visitors only [manhattan offender, via curbed]