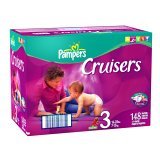 We went to Costco for the hot dogs, but we stayed for the Kirkland baby wipes, the giant tubs of Enfamil, and the cases of Pampers. Oh, and the steaks. Can't forget the steaks.
Well, we still use the wipes [which are seriously the best we found anywhere], but the kid's off of formula now, and the Costco near us just replaced Pampers with their own Kirkland brand diapers. The Costco diapers don't seem all that great to me, and the pamphlet that came with the sample pack talked at length about how you shouldn't worry, it's normal for some of the moisture-absorbing crystals get all over the kid's butt. [Normal, my butt. I've never seen that.]
So I just ordered my first case of Pampers from Amazon.
Not even factoring in the Costco membership or Amazon's free shipping the diapers cost about the same as Costco for the 148-count case, and they were delivered right to our door. It's mighty convenient, I tell you, but if you're going to try this at home, here's a tip to figure out when to place your order:
- calculate when it should arrive, back it up that amount of time, and then tack on one more day, at least, and you're golden.
[Translation: I missed by a day and ended up getting a pack from the drugstore anyway.]
You Huggies people have the best of both worlds. Costco still has them, and so does Amazon. So it really just depends on whether you're in the mood for a hot dog.
Buy Pampers or Huggies from Amazon, and who knows, maybe Moby will deliver them himself?