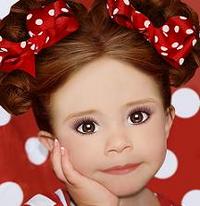 Congratulations to Angels With Attitude February Overall Winner Zoe [l] and 19-35 Months Winner Alli Beth [r], who most successfully represent "a total package 'glitz' child" without falling back on photos which are "extremely or overly retouched." They will receive 50 and 25 Angel Dollars, respectively, which can be redeemed for Pageant registration fees. If you're late for check-in, you "will be disqualified from photogenic," so be on time. And remember, "AWA does not double crown ~ with the exception of Hostesses and Hospitality Winners, and places limits on the number of overalls that may be won by a single contestant ... 1 for royalty and 3 for non-royalty finalists."
At Prelims, "Each division [0-18 mos, 19-35 mos, 3-4, 5-7, 8-10, 11-14, 15-19 day of pageant] will have a Queen and court & winners for most beautiful, most photogenic, best dress, best model, best interview, most personality, prettiest hair, prettiest eyes, and pretties smile, and there will be 1 Grand Supreme Queen. Most events will have a side event (casual wear, swim wear, holiday wear, etc.) and there will be a winner for each division."
March winners are posted, and April results are due soon!
Angels With Attitude [via metafilter]
[01/06 update: wtf, where is everyone coming from all of a sudden? Little Miss Sunshine blows the doors off at Sundance, and suddenly you dogpile onto my site? This post was a commentary which used quotes from an actual infant beauty pageant and "glamour photo retouching" contest that was taken down almost immediately after I posted about it. Because people freaked the hell out about it, and rightly so. This guy cached the whole page, btw.
So if you have more than two neurons firing in your head, you should be able to recognize this as criticism, NOT advocacy. If you don't, and you still want to risk overclocking your pathetic brain by typing idiotic flames, then do it on your own damn blog. damn. ]