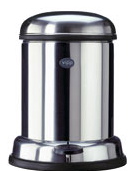 He coulda been a contenda'. I just threw out our Diaper Champ, which lasted almost exactly three months, ten months less than the Diaper Genie, in fact.
We liked the easy disposal method. The kid loved it; she'd play with that thing all the time, which is gross, I know. And it certainly kept odors in, although it apparently did so by absorbing them all straight into the plastic. That thing REEKED when you opened it, and it REEKED long after you'd take a full bag out. We tried cleaning it out a few times, but I just gave up and tossed it out.
For the money we've dropped on two ergonomically challenged, smell-absorbing plastic diaper bins, we could've been more than halfway to a sleekly engineered stainless steel Vipp diaper pail from Denmark which'll last a lifetime. Oh well.
For now, though, we're using these awesome plastic bags that fit right on the door knob. You just throw a couple of diapers in, they tie up easily, and you drop them down the garbage chute on the way out the door. The best thing is, they just give them away at the grocery store. Suckers.
the Vipp waste can has a removable steel liner. It's $178 at Garnet Hill, which has some Candyland fixation and refuses to stock the black ones. [garnethill.com, vipp.dk]