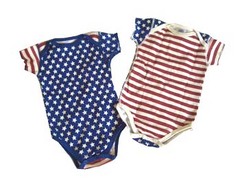 Wanting to dress their kids in wild, expensive, pattern-on-pattern clothing ensembles but unable to pronounce Oilily correctly (Hey, neither can I.) Japanese parents have many brand alternatives to turn to. Some of them are so over the top, they make the Dutch company's designs look like dour school marm uniforms.
You shouldn't need to speak Japanese to get a sense of the options: just click through the brands like Back Alley, Unica, Convex, Muchacha, and the empire of Boo (BooHomes, Super Boo, Boo Foo Woo, etc. etc.) to get a sense for what you're missing.
I have some personal favorites. Like rompers from Super Boo, which Vacation sells online in 2-packs: stars& stripes [above]; camo & '74 peace signs; this Muchacha dress, which looks suspiciously like Louis Vuitton fabric with a Takashi Murakami mushroom embroidered on it; and enough Marijuana-printed gear from Back Alley to make you nervous coming back through Customs.
These two online stores, The Peach Pit and Vacation, don't say anything about international shipping, but you can always ask. And Space Kiddets has some Back Alley and Super Boo products mixed in somewhere in their jam-packed mix of cool kid clothes. Otherwise, if you're desperate, drop me a line; we're going to Japan next month, and I'll definitely be tracking some of this stuff down.

The Peach Pit, "assist shop for slowly lifestyle" [rakuten.co.jp/freestyle]
Vacation, "a BooFooWoo-centered children's clothing shop" [vacation-co.net]
Space Kiddets, 46 East 21st St, Between Park Ave South & Broadway, 212-420-9878