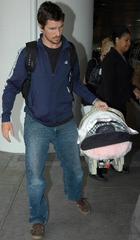 If you think I'd suggest choosing your baby gear based on which actor is photographed with it, I'd say you have me confused with InStyle magazine [and I'd also say you're something of a chump, let's face it]. No, I'm pointing out that Christian Bale had a Graco SnugRide infant car seat at LAX the other day purely for reference purposes. See the difference?
Apparently, he and his wife have a child who weighs less than 20 lbs. And judging from the pink plush car seat cover, it's a girl.
Can I just say, while I find this gearspotting kind of entertaining, I'm also pretty ambivalent. Being a new parent--and flying international with a kid--is stressful enough, but to have to manage in public with your kid while paparazzi are snapping pictures all around you--the strong light in this pic was from a flash--has to suck. It makes me think twice (or more) about posting every time I come across one of these photos. Of course, then I usually smother my conscience with a pillow and post it anyway. I mean, the man's got a movie to promote, right?
So see the movie [we did, and we liked it], then buy the car seat, a Graco SnugRide car seat in Casimir, at Wal-Mart [I'm sure that's where Christian Bale got it] for $99.96.
You're on your own on the plush thing, though; I still have some conscience left. [via celebrity-babies]
Previously: Forbes Magazine's tally for how much it'd cost to be Batman? Then you need to remember that Batman is a fictional character.]