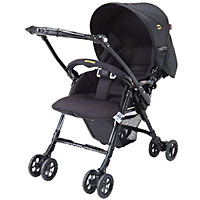 Day-um. When they say Batman Begins, they mean he begins in a stroller. The latest Batman movie opens worldwide on June 18th and the most unlikely licensed merchandise I can think of is now on sale in Japan: this special edition, Aprica W-Mini Eye-to-Eye Thermo stroller, which comes in "Batman Black" and with a Batman logo on the side of the canopy.
Before you start asking about the sanity of wheeling a new baby around Japan's 100-degree, 100% humidity summer in an all-black stroller, relax. The Aprica comes with a special Batmesh "W" ventilated seat system to keep the kid cool.
And it's designed with near-complete one-Bat-touch functionality, with reversible and angle-adjustable handle; easy open and close; and easy recline adjustment. It's suitable for kids from 0-2years, by which point there'll be a new Batman movie out, and you'll have to buy that stroller.
One major drawback: there are no cupholders, Bat- or otherwise.
The Batman Black Aprica W-Mini Eye-to-Eye Thermo stroller is 45,799 yen at Tos R Us Japan [toysrus.co.jp, all hail Cam for finding this]
Related: The Marshmallow J-Turn Neo Thermo bed/chair/restraint system, also in Batman Black for 57,799 yen
Previously: Marshmallow vs Baby Rack: Japanese infant bed technology