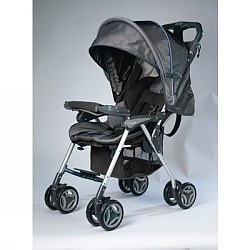 Looks like the Paltrow Martins have a second stroller for the second string.
Grandma and the nanny friend Jenny [See comments. thnx, Sarah. I only know what I read.] have both been snapped pushing a Combi Ultra Savvy, a spindly, lightweight [at 17 lbs, it only looks lightweight.] Japanese alternative--actually, the two are so different, it's more of a complement--to their Bugaboo Frog.
One thing the Combi has that the Bugaboo doesn't: built-in speaker pouches in the canopy for listening to dad's new album.
Buy a 2005 Combi Ultra Savvy in Silver Pearl (aka grey) for $229.99 at Traveling Tikes, or try the apparently discontinued Savvy EX in Silver Breeze (aka black) at [damn, I'll say it, even though they bug] babyuniverse.com. The only reason to buy a Claret-colored one for $199 is because you want to give me $10.
Blythe and Apple out for a walk on May 5th [celebrity-babies.com]
That's not Gwyneth; it's the nanny [pic, trent.blogspot.com, via DT reader Nicki]