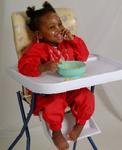 Yes, the Little Eater Suit from Hippychick also comes in red, blue, and green, but why would you want anything but yellow?
According to the website, here's what the suit says to prospective wearers and buyers:
"I protect your clothes so that they do not become dirty at meal times."
"I have velcro fastening to my ankles and wrists to make it easy to put me on."
"I come with a FREE tote bag so that when I get messy you can put me inside it especially if you are eating out."
And here's what the suit says to the people around you:
"Our sofa is wrapped in plastic, too."
"Of course we want my kid to look good, just not for you."
"We're through being cool."
Buy a Little Eater Suit from Hippychick for £ 8.00, plus £ 8.00 shipping to the US [hippychick.com, hat not included]