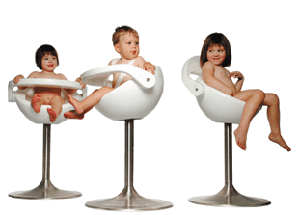 Until now, getting a Nest high chair in the US was no easy feat. These sweet, shagpad-ready pods by Bug Design were published all over the place when they came out last year, but they were only available for purchase in the UK and Australia, places that, even though they speak English, are actually foreign countries [with steep shipping charges].
Now, though, a very few retailers have started selling the Nest high chair--v1.5 of which also converts to a low chair, the Nester--in the US. Sparkability has a very limited supply, as does ModernChild.
Currently, the Nest is only available in black or white, but I hear it'll be available soon in purple, too. Now go ahead and try not to think of a grape.
Nest is $575 plus [a lot less] shipping at Sparkability or ModernChild