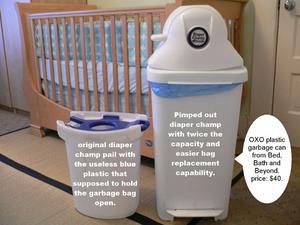 Whether its from their outfielders or their Diaper Champs, folks in the Bay Area know that getting maximum performance sometimes requires extreme steps.
But as Mark McGuire once said, we're not here to talk about the past. So I'll just talk about new dad and DT reader Jan's sweet, pimped out Diaper Champ, which, like a home run champ, he pumped up to twice its natural size.
See, Jan found that son Liam's output was so great, and the Diaper Champ's capacity was so small, he was having to take the garbage out, like, every few days. And that blue contraption in the Champ that was supposed to hold the bag in place? Too complicated and it didn't work half the time.
So he took things--specifically, a hot box cutter, some bamboo skewers, and a $40 OXO garbage can from Bed, Bath & Beyond--into his own hands. Now he won't have to take the garbage out for months. [Jan's own target was once a week. We'll see if that schedule holds once the kid starts eating solid foods--and enters the major leagues of poo.]
Of the result, Jan says:
The only minor problem I had with the modifications was that the bottom of the champ lid and the top of the OXO garbage can had a slight convex surface opposing each other so it was difficult to get a flushed fitting to make it look seamless but I think all in all I accomplished what I wanted which was to increase the capacity of the champ. It boggles me why they don't offer one with a bigger capacity.
See Jan's annotated photos of how he did it below.