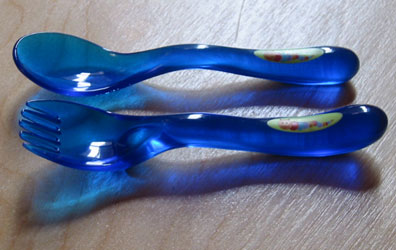 The kid's been testing out the spoon on her own for a few weeks now, and the results are generally positive. She obviously makes a mess; she sometimes freaks out if she has to (or can't, you never know, which sucks) spoon food all herself.
Anyway, we've found a great food for helping a kid learn to feed herself with a spoon: Whole Kids Organic Apple Sauce from Whole Foods.
It's thick and stays on the spoon really well, which is the key. Mott's is too watery, and besides, it has tons of high fructose corn syrup in it. [Whole Kids has just apples and vitamin c.]
Oddly enough, sour cream works well, too. It kind of surprised us tonight when the kid clamored for a spoonful of sour cream--which she'd never had--and then another, and another.
What doesn't work, unfortunately (i.e., I have to feed it to the kid myself): Stonyfield's Yo'baby whole milk yogurt for babies. If you stir it up, it, too is too runny to entrust to a lone child. Whatever she eats, she requires a lot of napkins.

Whole Kids organic apple sauce [wholefoodsmarket.com]
YoBaby organic yogurt for children [Stonyfield Farm]