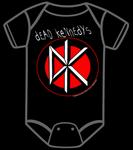 When times have changed, and our kids are getting worse, we in the US can blame Canada. But then who do Canadians blame for "the rise of a generation of parents whose tastes are not only a flat-out rejection of their own upbringing, but also reflect an ambivalence about inhabiting the role of an authority figure"?
Well frankly, besides Globe and Mail columnist Karen von Hahn, I don't think anyone in oh-so-well-behaved Canada's worrying too much about it. I mean, what's the worst thing these rebellious parents are doing?
They're dressing their kids in black t-shirts printed with punk and heavy metal designs and gross-out jokes. I'm sure everyone was so horrified, they just had to visit all the designers and sites she namechecked in the piece [including a bunch that previously shocked you here at Daddy Types]:
New to you?
Nippaz with Attitude: the Malcolm McLaren of punk-ass baby gear
Nappyhead : Dude, if everything's "funky," nothing is.
Punkymoms.com: Someone's website needs Angel Alert; it seems to have wandered off.
Baby Wit: Cooler Sonic Youth onesies than the one I got the kid, but hey, I was young and stupid last year.
Metal Babies: An entire notebook coverful of band name puns--on a jumper!
Pottymouth: seems like van Hahn managed to mention every non-explicit slogan they have. All three of them.
CBGB's: hmm, nothing rebellious about parents foisting their high school-era music touchstones on their kids.
The Cradle Rocks: still more "hip clothes for punk kids." They do have the Dead Kennedys onesie I've been looking for, though.
New to me:
Sourpuss Clothing: the maker of that Dead Kennedy's onesie, er, jumper. [not mentioned in the article, but stocked on a couple of the shops]
L'il Chlo's: Tattoo-based designs from SF-based moms. Lots of 'beaters.
: Not just clothing. Started with the search for a black crib.
Baby Rock Apparel: Question: Seriously, what did graphic designers with babies do before American Apparel came along?
Alternative Punk Rock & Anarchy Shop: Answer: they used the oh-so-not-anarchic Cafepress. A whopping five designs to choose from? I smell a poseur.
All in all, I saw a lot of Ramones (cf. CBGB's) and one Joy Division, but no Interpol. So come on, where's the real hipster baby gear, people?
All this vaguely nostalgic, pre-packaged non-conformity makes me want to go to Old Navy.
Baby, It's Not You [The Globe & Mail], via
Hey, I Resemble That Statement! [Hello Josephine, both via DT reader Sam ]
Previously: too many mentions of 'punk' baby clothes to list