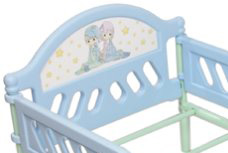 OK, first off, let me say thank you to everyone who clicks through and buys stuff at Amazon, Babies R Us, babystyle, and the other places where Daddy Types gets a little cut of the business.
If you didn't know, Daddy Types can get at least a little commission--maybe 2-3%--of whatever you buy, not just stuff that's linked directly. So when you're feeling spendy and want to show some support for the site, you could, say, start your Amazon shopping trips here. Or you could even click through to babystyle to buy that Bugaboo (full disclosure: OK, that'd be totally bank if you did that.) if you were finally persuaded. Because after all, shopping, like television, is all about sharing the love.
And while the retailers will show me what items have been ordered (and what my teeny slice is, I'll never know who bought what, or with what, or any identifying information like that.
Which is why I'm asking this weekend's buyer of the Precious Moments Toddler Bed from Babies R Us to contact me privately. I don't feel like I've "earned" the $1.52 this sale netted me, and I'd like to return it to you. Plus, I'm sure you have a good explanation for why you bought this bed, and I'd like to share it (anonymously, if you prefer) with the rest of the site.

The Precious Moments Toddler Bed, $59.99 at Babies R Us/Amazon [amazon]
Previously: Precious Moments Stroller?? PLEASE MAKE IT STOP