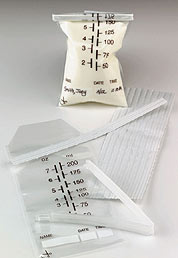 Grabbing the story with both hands, the LA Times reports on the business and the risks of a new trend: using OPB [Other People's Breastmilk].
While the tradition of wet nurses dates back at least to 1988, when The Last Emperor came out [at least that's when I figured it out], there's apparently been a four-fold increase in demand for human milk, fueled by adoptions and by the use of breast milk in the treatment protocols for certain infant diseases. [And the tireless efforts of La Leche League, I'm sure. Props, ladies.]
Anyway, milk banks [who knew?] charge $3/oz. for thoroughly tested, pasteurized breast milk, and usually require a prescription. For folks without the extra $2,400/month to spend on breast milk, pediatricians, nursing support groups, and lactation consultants sometimes act as go-betweens for parents and donors.
The big risk, of course, is disease; many infections, including Staph and HIV, can be transmitted to a baby through breast milk.
Supposedly, you can buy breast milk on ebay and craigslist, although the new, authoritative-yet-exploitative news site Sploid went shopping and came up dry. Maybe it's on "the Internet" instead.
Feeding a need [LAT, via Sploid]
The Human Milk Banking Association of North America [est. 1985, see? I wasn't far off]
Related: Ben posts A Gallery of Expired Milk on Trixie Update [and the comments mention a January 2005 WSJ story about the underground breast milk economy?]