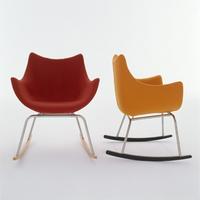 If you don't hear that phrase as much as you'd like, maybe you need to check out this Basket, a rocking chair designed by Vico Magistretti for the Italian furniture company De Padova.
Introduced last year, the Basket is available with either natural or wenge-stained ash rockers on steel legs, and in a range of fabric and leather coverings. M at MERCER in SoHo is the only dealer listed in the US. Their website shows the rocker in the showroom [summer 2004]. I'm no expert, but I'm guessing the chair's at least $2000.
It looks kind of like the Eames Rocker's sexier, Italian cousin, Francesco. Great, now I have that shaving cream commercial stuck in my head.
Basket, for De Padova [depadova.it via DT reader Pippa]