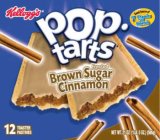 It's been several months since I read Dooce's confession that she and Jon were bad parents, i.e., that they sometimes fed their daughter Leta Pop Tarts. ["but just the edges."]
Personally, I avoid the crisis that Jon got embroiled in--when Dooce spied some strawberry Pop Tart filling on Leta's face from across the room--by only feeding the kid Brown Sugar Cinnamon Pop Tarts, which has tan filling that can only be detected at close range.
And anyway, I only feed her the edges.
This website is surprisingly not sponsored by Pop Tarts [dooce.com, and neither's this one. yet.]
Whoa, Amazon sells a 12-pk of Brown Sugar Cinnamon Pop Tarts for $3.29, from Gristede's. Who knew?