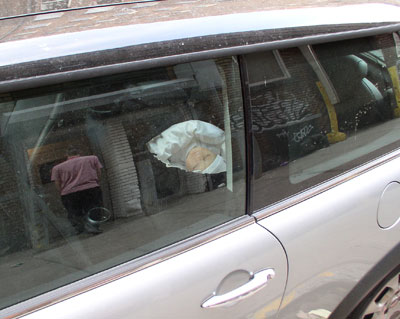 I always used to tell our artist friends, Michael Elmgreen & Ingar Dragset, that they'd make great dads; but now I have to wonder a bit.
The Berlin-based duo was recently in NYC to create a very elaborate installation at the Bohen Foundation in the meatpacking district, but meanwhile, they also did a lower-key, but much more disturbing piece for The Wrong Gallery in Chelsea.
On Saturday morning, they put a very lifelike sleeping baby doll in a bassinet on the backseat of a Mini, and they abandoned it on the street in front of the gallery [which is actually nothing more than a 1'-deep doorway].
The car has maps, loose change, and other lived-in detritus strewn about, and it's been getting parking tickets at a steady clip since Monday morning. The exhibition will continue until the car is towed away. While you can tell it's a doll in person, I have to say, the photos really creep me out. Nice work, guys.
Try and see Elmgreen & Dragset's project at The Wrong Gallery, 516A West 20th St, next to Andrew Kreps Gallery.