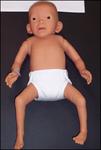 Teens in the UK are being sent home for two nights with robot dolls programmed to simulate drug addiction and fetal alcohol syndrome in order to teach them TO STAY OFF DRUGS--at least while they're pregnant.
The robots are preemie-sized, just like a real crack baby. And they cry and scream, and you can't make them stop. Just. like. a... hey, is there a camera somewhere? Alright, where is it? I KNEW there was something odd about this perpetually whiny creature crawling around my house the last two days...Come on, you replaced my daughter with a crack baby robot, didn't you?
Hello, anybody there? I figured it out, come on... experiment's over, bring her back... hey, guys...
Teens 'shocked' by alcohol dolls [bbc, via money-not-art]