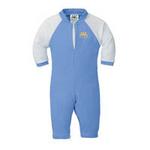 Now that the locals are all mad at me for giving a plug to infant surfwear from The Valley, I might as well mention this one from Canada, too. [You can try pointing out that it's certified in Australia, but it probably won't help; those Huntington Beach types are pretty territorial.]
The NoZone Sun Suit blocks 98% of UV rays, dries fast, and is clorine-resistant. No mention of ammonia, though, so you'll still want a swim diaper under there.
One problem: the price, $34 Canadian, equates to approximately $1 million at current exchange rates.
NoZone Sun Suit, $CAN 34.00 at Mountain Equipment Co-op [mec.ca, get it? thanks, DT reader Cameron]