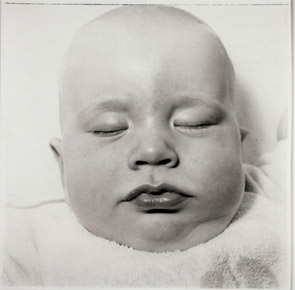 styling credit: billy bob lips
A Diane Arbus [that's DEE-ann, fyi, at least according to MEE-chelle Norris's network, NPR] exhibition that's been traveling around the country just opened in NYC at the Metropolitan Museum. She's known for her engrossing, unsettling photo portraits.
Among the standout images in the show: this portrait for Harper's Bazaar of Gloria Vanderbilt's infant son, Anderson. Cooper. Yes, that Anderson Cooper.
Tyler Green quotes Arbus's biographer on the photo: "the infant resembles a flat white death's head -- eyes sealed shut, moth pursed and moist with saliva. When Gloria Vanderbilt saw the photograph, she forbade Bazaar to publish it, but eventually she changed her mind and this stunning image opened Diane's retrospective at the Museum of Modern Art in 1972."
Name That Baby [modernartnotes]